Gengdan Institute host contest successfully concluded
Release time:2020-12-15 15:40:01
Gengdan Institute host contest successfully concluded on the evening of December 1, 2020. The final of the 2020 host contest was held in the 904 lecture hall of the comprehensive building, with teachers and students as judges. The host contest was hosted by Gengdan Voice Radio for a month. After registration, auditions, rematch and other links, the seven contestants stood out and competed fiercely in the final.
Through self-introduction, self-hosting, talent show, impromptu hosting four links, the contestants showed the judges and the audience their side of knowledgeable, versatile, and witty.
In the self-introduction link, they shared their love and all the way to adhere the hosting, which moved every audience; in the self-hosting link, the football event explanation and the wonderful globalization political review by Xu Jingyu in English impressed the audience; in the talent show, a classic book review, and a dubbing show presented by the contestants, won warm applause at the scene.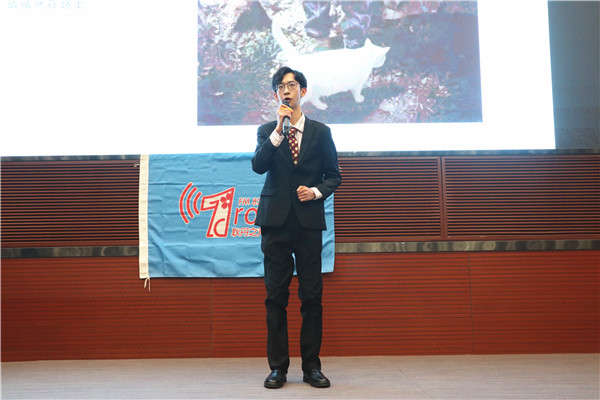 The most wonderful part of the contest is the impromptu hosting of the link, with the seven anti-epidemic period of micro-story as the carrier, with the perspective of youth showing the responsibility of the youth, or telling the great national righteousness by peeling off the cocoon or telling the touching of anti-epidemic. With their sincere feelings, appropriate speech, rich connotation, witty strain, infected everyone there.
After the contestant display, the judgment teachers made comments about their presentations. The conduct teacher of Gengdan Voice Radio, Kao Feifei, made a concluding speech as the hosting completion not only showed the self-confidence and persistence of student but also their hard work. Finally, all the contestants, judges and staff took pictures together.